" Latest art from
around the world "
SIAF2024 presents contemporary artwork that provokes questions and inspires actions for the future. There will be projects and pieces from both Japan and abroad that convey the latest ideas and expressions, intertwining art, technology, and science.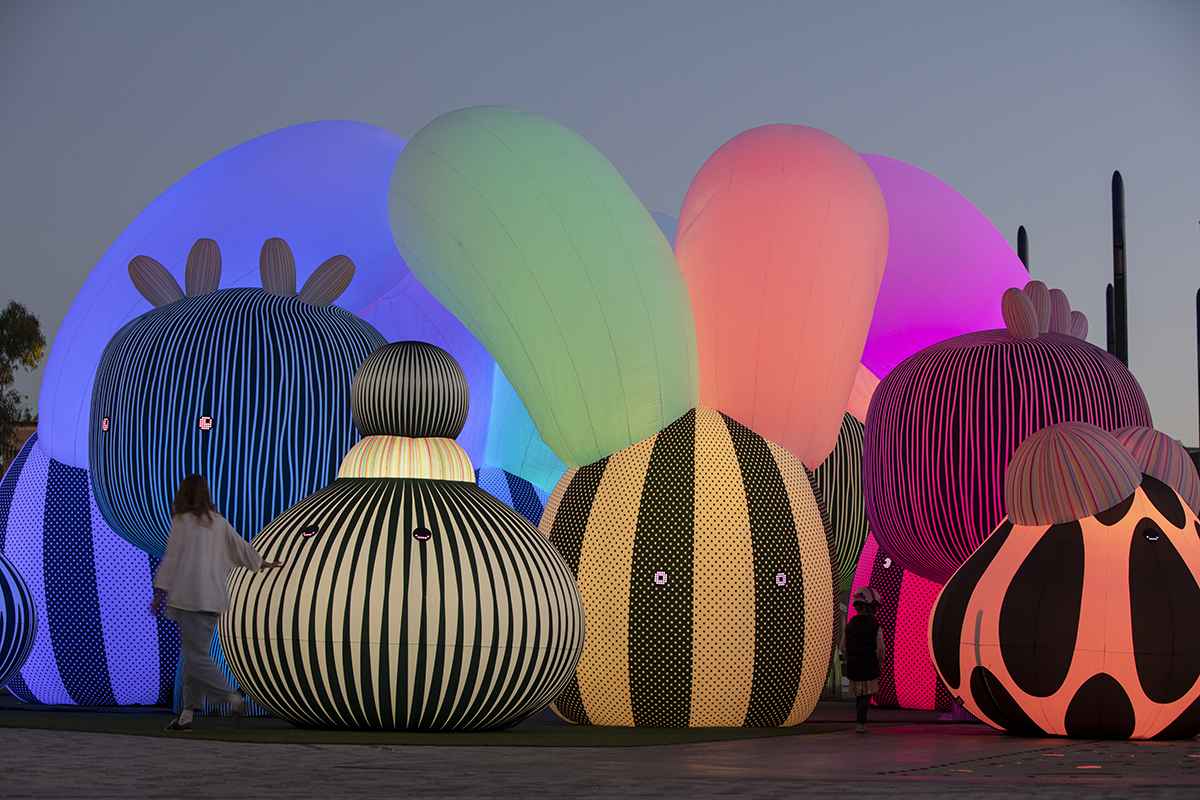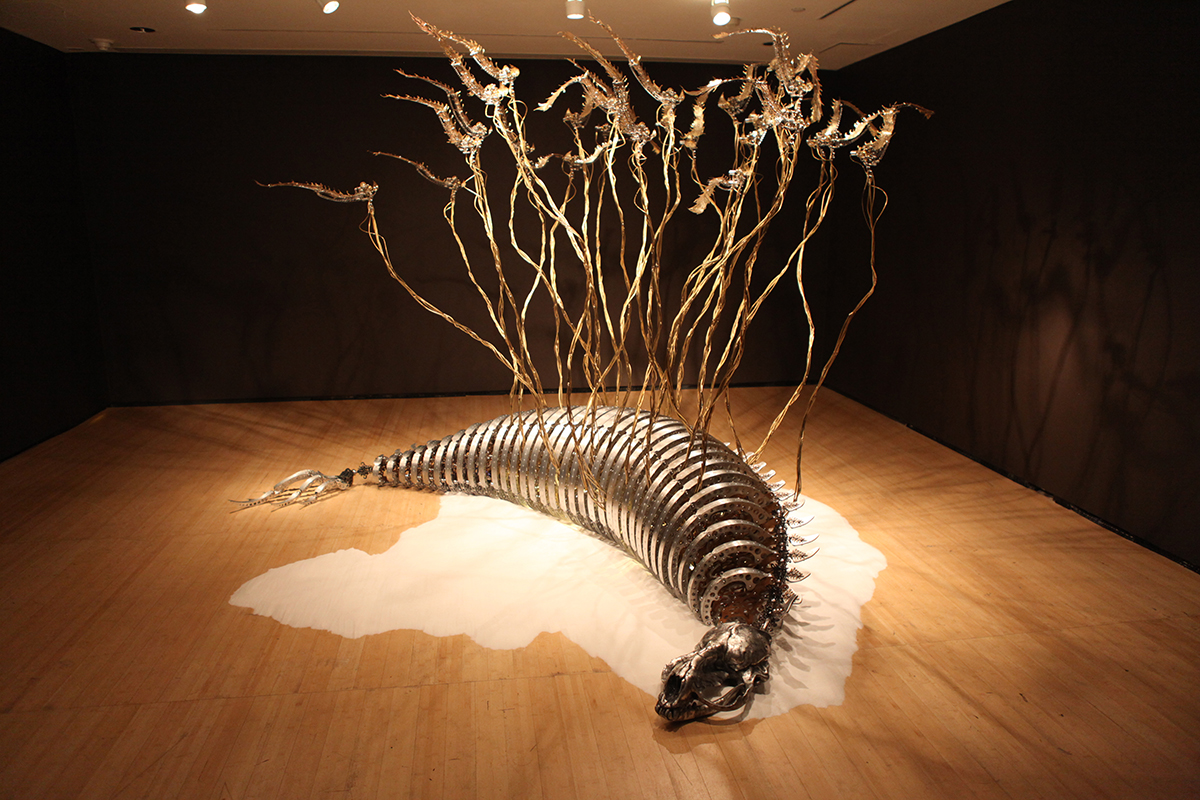 What is SIAF?
The Sapporo International Art Festival, called SIAF for short, is a triennial art event that showcases the latest art from around the world. Launched in 2014, SIAF went through the cancellation of SIAF2020, and after more than 6 years, it returns in January 2024.
Visuals
SIAF2024 Symbol / Communicator Maru-san
Symbol
The exquisite snowflake symbolically expresses the sub-theme of SIAF2024: Where the Future Begins. This symbol, an original SIAF snowflake, was created with 3D modeling by referring to several photos of real snow crystals. It will hopefully inspire Sapporo citizens to take a fresh look at the snow that they take for granted.
Maru-san
Maru-san depicts the experiences visitors can expect at SIAF2024, the concept of each venue, the overall ideas behind SIAF2024, and the like. Maru-san will appear on various occasions before and during SIAF2024.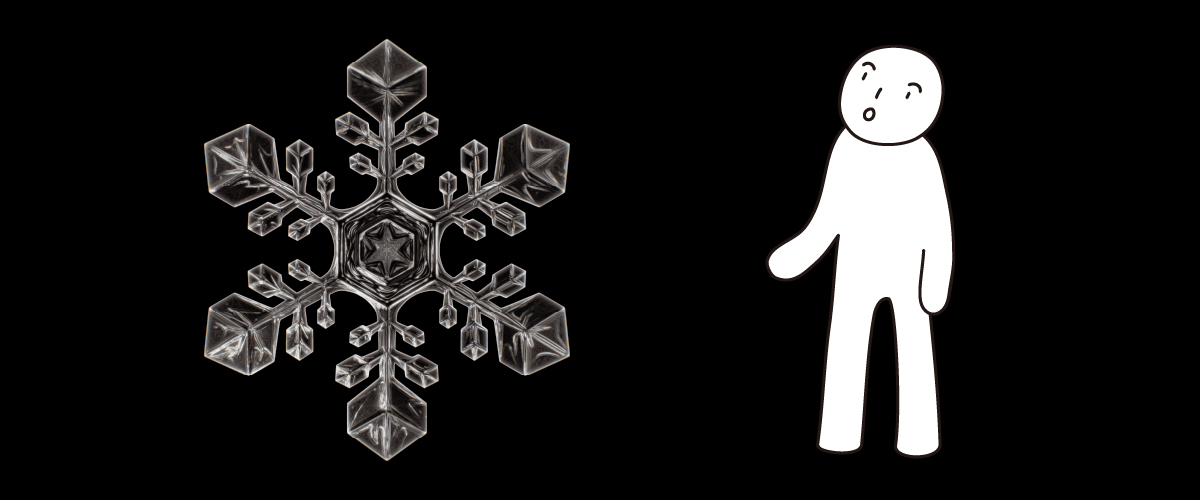 Aiming for the three Cs
The vision for SIAF2024 expressed with the three Cs,
and supporting programs
Engine for Creativity
A driving force for future-oriented thinking
Three experimental zones to spur future-oriented thinking and innovation
A large artwork will be displayed at the Sapporo Snow Festival Odori 2-chome Site for the enjoyment of a wide range of people to propose how to live and enjoy winter in Sapporo. A workshop will be held in Moerenuma Park to consider sports of the future. In addition, an underground park will be created somewhere in city of Sapporo.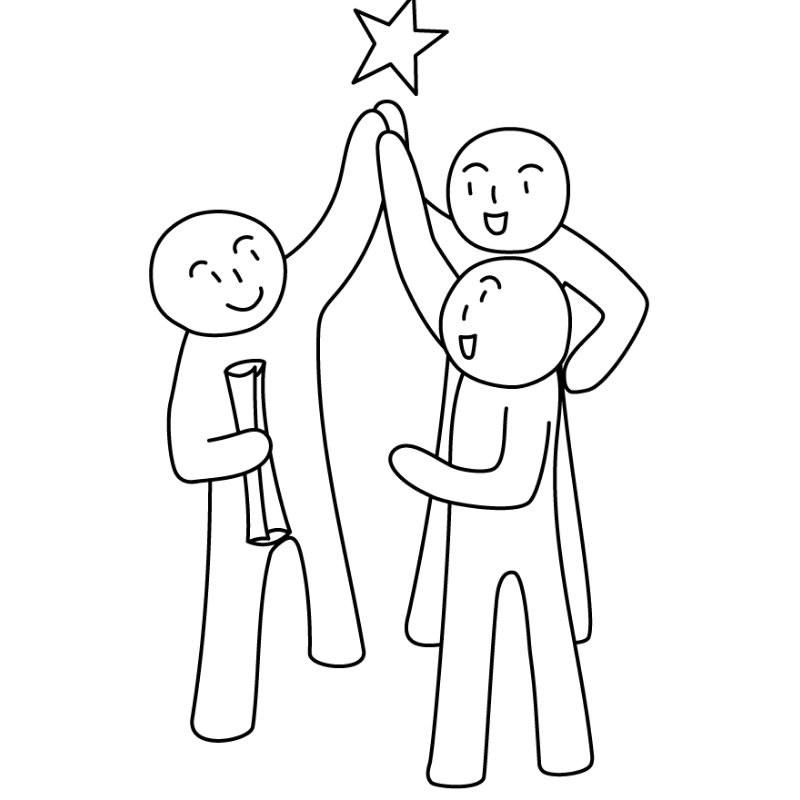 Cultural Infrastructure
An opportunity to catch a glimpse of the future
Birth of Future Theater exhibition space to experience the future
The Higashi 1-chome Theater (formerly the Hokkaido Shiki Theatre), a venue for many stage performances, will be transformed into a massive exhibition space. SIAF2024 will call the space the Future Theater to allow visitors to experience the future 100 years from now.
Opening of SIAF School, a place of discoveries, experience, and learning
SIAF School is launched in April 15, 2023. It will be open to everyone: children and adults alike.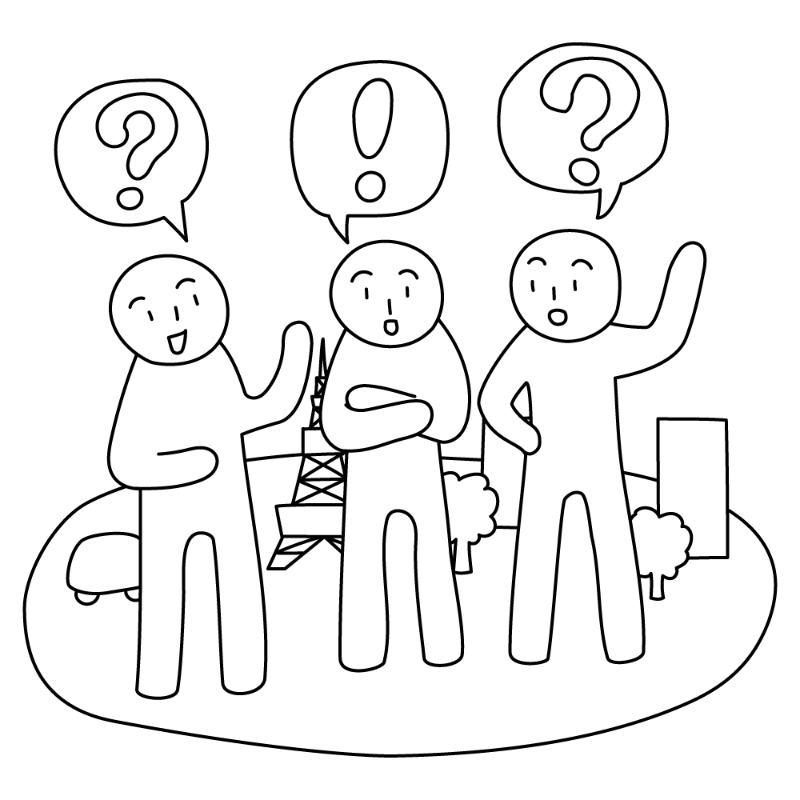 Citizen Participation
Citizen and corporate participation & art for a society
Creating an art festival through many collaborations involving citizens and businesses alike
The Ainu sub-theme Upaste, derived from upas, which means "snow" in Ainu, is imbued with the meaning of running together into the future while recognizing one another. An open call-based project using Upaste as the key word, Open Call Upaste, is currently under preparation. Through the open call-based project and SIAF School, the SIAF2024 will roll out collaborations before the opening of the festival to start "running" together with a wide array of participants such as citizens, companies, and other organizations.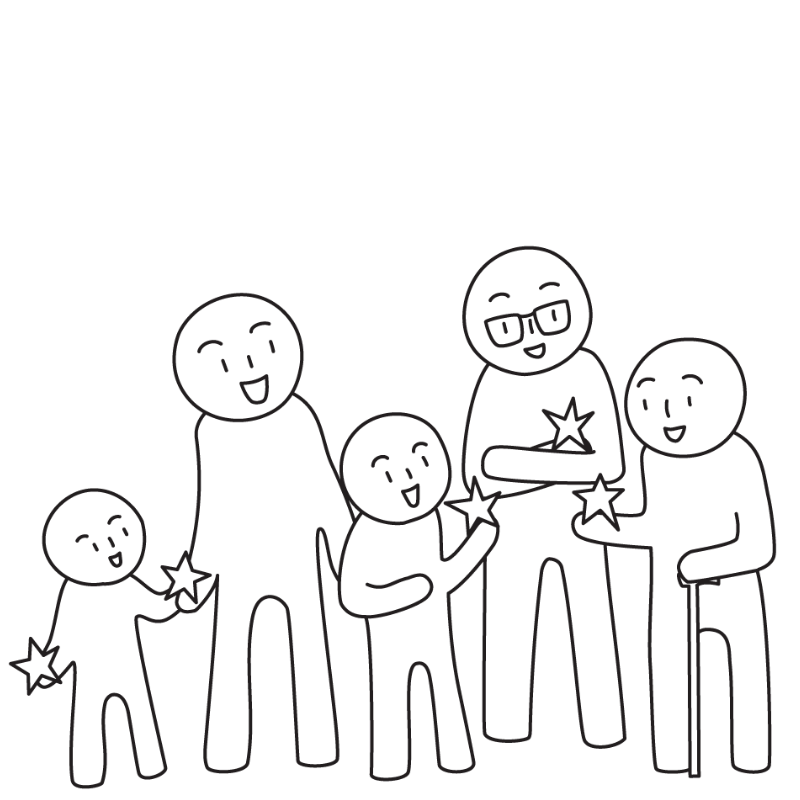 The theme of Sapporo International Art Festival 2024 is "Last Snow".
Humanity lives in the midst of constant crises, with events such as the global pandemic since 2020, division, conflict, and war. Technological development is accelerating, resulting in rapidly transforming societies. Furthermore, the effects of global climate change are slowly but surely changing our lives. It is predicted that by the end of the 21st century the meaning of "snow" – which should exist in Sapporo as a matter of course – and the scenery it creates will be different from what they are today.
This art festival focuses on transformation and creation for such a future for our planet, society, community, and life.
What is snow, and how will Sapporo be different 100 years from now? What kind of future can the hybrid of art and science and technology envision? What new ways of thinking, education, innovation, systems, and actions are necessary to live in harmony with the future Earth? What kind of communities will we create, and what kind of future humanity will live there?
Last Snow is a call for creativity and action for the sake of our future.
Do we simply wait for the future to arrive and accept it?
Or can we seize this moment as our last chance and begin to create our own future?
The sub-theme of the festival is "Where the Future Begins". The art festival also has a subtheme in the language of the Ainu people, who have built their own culture in the northern lands. Upaste, a term derived from upas meaning "snow", embodies an original interpretation inspired by the festival's theme; to start running towards a future with snow, and to recognise each other through snow.
In 2024 the Sapporo International Art Festival will create an "experimental zone" in Sapporo which, through art, provokes questions and inspires actions for the future. We look forward to experiencing "where the future begins" together with you.
SIAF2024 Overview
(Last updated February 14, 2023 / additional information to be announced in October 2023)
Title
札幌国際芸術祭2024 (Japanese)
Sapporo International Art Festival 2024 (English)
Usa Mosir un Askay utar Sapporo otta Uekarpa 2024 (Ainu)
Abbreviation
SIAF2024
Theme
Last Snow
Sub-theme
はじまりの雪 (Japanese)
Where the Future Begins (English)
Upaste (Ainu)
Dates
Saturday, January 20 – Sunday, February 25, 2024 [37 days]
*Exhibition period at Sapporo Art Museum December 16, 2023 – March 3, 2024
*Exhibition period at Sapporo Snow Festival Odori 2-Chome Site to correspond with Sapporo Snow Festival
Venues
Higashi 1-chome Theater (Formerly Hokkaido Shiki Theater)  
Sapporo Snow Festival Odori 2-chome Site
Sapporo Cultural Arts Community Center (SCARTS)
Hokkaido Museum of Modern Art
Moerenuma Park
Sapporo Art Museum 
and more
Artiss
AOKI Mika
ENESS
KUNIMATSU Kineta
KUNIMATSU Noboru
CHOE U-Ram
MIYATA Sayaka
Maywa Denki
YUKUTAKE Harumi
Initiative Partners
Ryohin Keikaku Co .,Ltd. / Wacom Co .,Ltd / Dai Nippon Printing Co.,Ltd. / Panoramatiks / WIRED JAPAN
Director
OGAWA Hideaki (Co-Director of Ars Electronica Futurelab/Artist)
Organizers
Sapporo International Art Festival Executive Committee and City of Sapporo
Under the auspices of Sapporo City Board of Education
About Upaste
Upas means "snow" in Ainu.
The word is composed of two parts: "u-" [together] and "pas" [to run]; upas refers to the visual effect of snowflakes swirling together as they fall, as if chasing one another.
The word upaste is a protologism coined for the Sapporo International Art Festival 2024.
By adding the suffix "-te," the word takes the causative form. The intention is for upaste to intimate snowflakes flying, tumbling, swirling together as one.
Since paste (which has a different etymology than "pas") can be translated as "to be aware of" or "to recognize," adding "u-" [together] also intimates mutual recognition and shared understanding.
This snow-derived Ainu word responds and remixes Last Snow, the theme of the Sapporo International Art Festival 2024. Hopefully this invented Ainu word can also invite us to run, tumble, and scramble together in synchrony, reaching out for our future while recognizing one another.
The Ainu sub-theme was prepared by Mayunkiki
(SIAF Ainu Culture Coordinator)